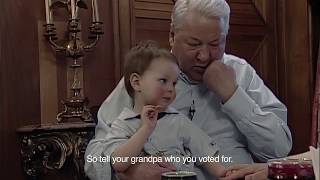 Свидетели Путина
Putin's Witnesses
Latvia, Switzerland, Czech Republic
2018

The events of the film begin on December 31, 1999 when Russia was acquainted with its new president. The film is based on unique and strictly documentary testimonies of the true causes and consequences of the operation "successor", as a result of which Russia ended up with the president who still rules the country. The protagonists of the film are Mikhail Gorbachev, Boris Yeltsin, Vladimir Putin, and the Russian nation, as always being a silent witness of its own destiny.

The film is in Russian-only version, no English subs available in this version due to copyright reasons.

Internet-premiere of the film took place on the 12th December 2018 at the Artdoc.Media online movie theatre.